The countdown to Really Truly, my third Pumpkin Falls mystery, continues today with a peek at how the series came about. It's a bit of a tale, so buckle up. . . .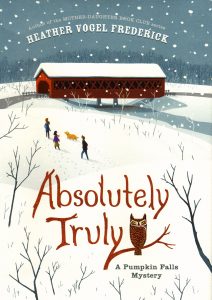 Absolutely Truly, the first book in the series, sprang to life because of a happy convergence of several factors:
A long-cherished desire to write about a big family.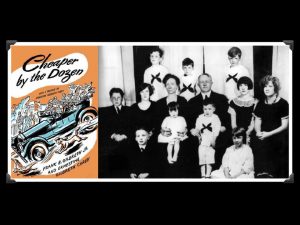 Many moons ago, when I was growing up, my family rented a cottage on a lake in Maine for our summer vacation.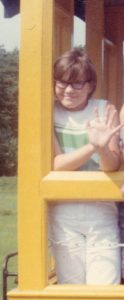 It had two things I've coveted ever since: A row of rocking chairs on a huge porch overlooking the water, and an entire wall of built-in bookshelves. Heaven! I couldn't decide which was better — swimming in the lake or lolling on the porch with a book in one of those rocking chairs.
It was there on those shelves that I discovered Cheaper By the Dozen, a memoir about the sprawling Gilbreth family.
At my tender age, the cringe-worthy racist stereotypes in an unfortunate chapter about the family's Chinese cook flew over my head – I was just entranced by the idea of a family with TWELVE CHILDREN. In my family, there were just three of us kids, me and my sisters. I couldn't fathom TWELVE CHILDREN. Amazing!
My love for small New England towns, like the ones I grew up in around New Hampshire and Massachusetts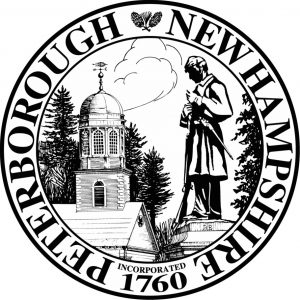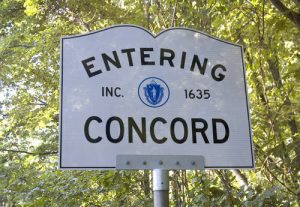 Jane Austen once told her aspiring novelist niece, "Three or four families in a country village is the very thing to work on." I couldn't agree more! I followed her advice for the Mother-Daughter Book Club series, and I followed it again as I was dreaming up Pumpkin Falls.
My love of covered bridges.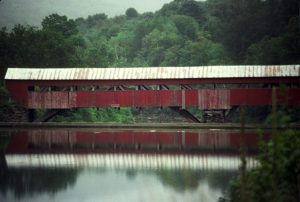 Because who doesn't love a covered bridge? They're amazing!
My growing curiosity about a bookshop that my grandfather owned in Providence, Rhode Island, back in the late 1920s and early 1930s.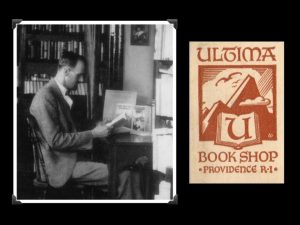 The Ultima Bookshop wasn't terribly successful, alas. For one thing, Grampie's timing was terrible. Nobody was buying books during the Depression! For another, for some unfathomable reason, he threw caution to the wind—along with his business plan, apparently—and decided to create a sort of bookstore hybrid.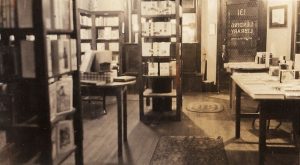 Can you see that sign on the door in backwards writing? My grandfather turned the back room of his shop into a lending library, which pretty much sums up the business acumen in the Vogel family. Grampie advertised this proudly…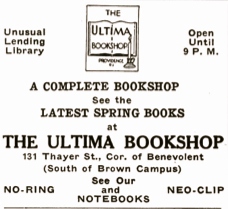 You have to admire his confidence. "Unusual Lending Library!"  Yes, and an unusually BAD business idea! Who would buy a book if they could borrow one?
Well, how about James Joyce?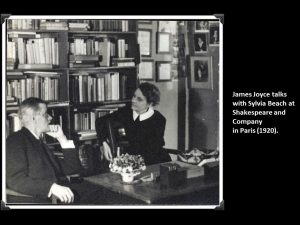 I made an exciting discovery shortly before starting work on Absolutely Truly. SHAKESPEARE AND COMPANY was a famous bookstore opened by Sylvia Beach in Paris's Left Bank in 1919. During the 1920s it was a gathering spot for writers such as Ernest Hemingway, F. Scott Fitzgerald, Gertrude Stein, and James Joyce (who used the bookstore as his office, and in fact Sylvia Beach was the publisher for his novel "Ulysses"). As it turns out, my grandfather was kicking around Europe in the 1920s, studying bookbinding in Vienna and chaperoning his sister, who was also a student there.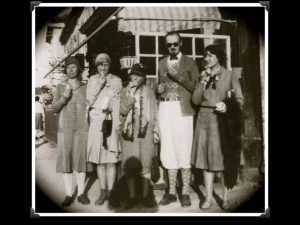 Quite the fashionista, isn't he? I love those socks. . . .
A store like Shakespeare & Company would have drawn Grampie like a moth to a flame.  And guess what?  Shakespeare and Company also had . . . wait for it . . . a lending library! Patrons could buy OR BORROW BOOKS!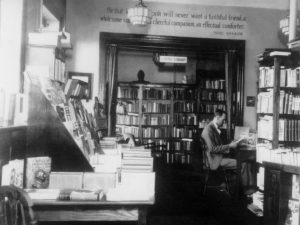 Did Grampie pattern the Ultima Bookshop after Shakespeare & Company?  That will forever remain a mystery, as he is no longer around for me to ask, but personally, I think the evidence is pretty compelling.
Whether it was the lending library or the general economic climate, Grampie's shop sputtered along for a few years, then closed its doors, but he kept his love of books and reading for his entire life, and he shared that enthusiasm with me and my sisters. So, I thought it would be fun to feature a small-town bookshop in my novel, as a tip of my hat to him.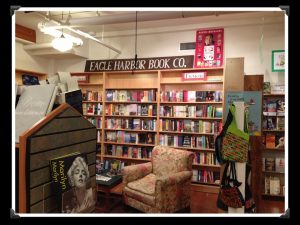 Here's the actual present-day store that helped spark Lovejoy's Books in the Pumpkin Falls mysteries.  Eagle Harbor Book Co. on Bainbridge Island, Washington, is one of my favorite bookstores. (In fairness, I am the Will Rogers of bookstores and libraries – I've never met one I didn't like.) My friend Victoria Irwin works there, and she graciously allowed me to go undercover for a few days as a bookseller, for research purposes.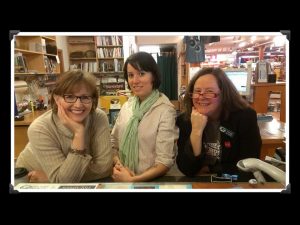 This is why being a writer is the best job ever. The things we get to do for research! You can read more about that adventure here.
So we've got a small town, a covered bridge, a bookstore. We're not finished yet, though.
4. "To my grandfathers"
Those who read Absolutely Truly may have noted that the dedication reads "to my grandfathers." You've already heard about one grandfather, but there's another ancestor who inspired an important piece of TRULY. Two, in fact!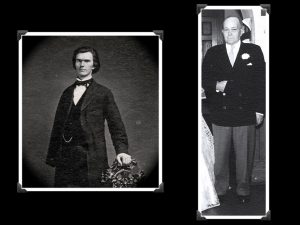 On the far left is my paternal great-great-grandfather. Next to him is my maternal grandfather. Both were amputees. My great-great-grandfather lost an arm in a threshing accident back in the 1860s; my grandfather lost a leg while working for the Canadian Railroad in the 1930s. Both of them were burdened with heavy, uncomfortable wooden prostheses. I was just beginning the first book around the time of the Boston Marathon bombing in 2013, and I was tremendously moved by the many stories of war veterans who helped those who lost limbs transition to their new normal. That got me thinking about these two men in my family, whose lives might have been entirely different if they'd had sympathetic mentors and access to modern prosthetics. And this was the seed that sprouted into Truly's father, Lieutenant Colonel Jericho T. Lovejoy, who has to navigate the sudden shift in his world, just as Truly has to navigate hers.
And finally, there were other personal connections that made it into the book…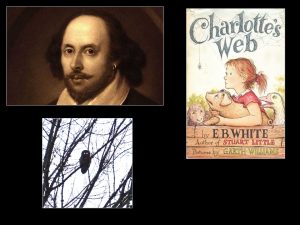 My long-standing love of Shakespeare, for one, and for E. B. White's Charlotte's Web (which I consider one of two perfect novels in the world, alongside Jane Austen's Pride and Prejudice). And there was also an owl who flew into my back yard in Oregon on my birthday, just as I was struggling to find my way into my main character. You can read more about that here.
I think it's true for every writer that pieces of our lives, pieces of our hearts, and pieces of the things we're passionate about find their way into our books.
By the way, I would be remiss if I didn't give a shout out to the amazingly talented Charles Santoso, whose artwork graces the covers of these books. They're swoon-worthy, don't you think? I just want to dive straight into the cover of Really Truly and live there for a while!
If you look closely at Really Truly, you'll notice a tail in the water, up to the right of the canoe. How a mermaid swished her way into Pumpkin Falls is a tail for another day! Stay tuned . . . .