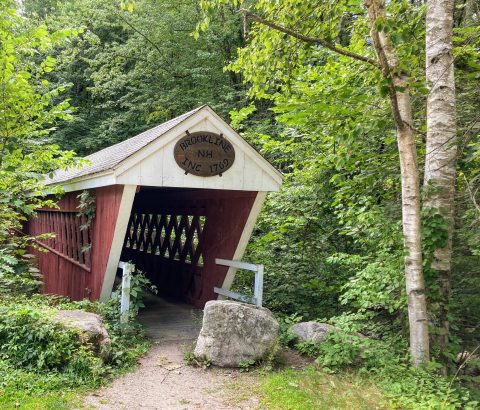 Covered bridges are magical, aren't they? A throwback to a time when horse and wagons clip-clopped over their wooden floorboards and the voices of people long gone echoed in their rafters, they're a bit of an endangered species. Here in New England, you can still find them tucked away on country roads, though, and this past weekend my husband and I did just that on a quick day trip.
After a refreshing hike through a quiet forest, we spotted this covered bridge on the way to our picnic destination. Of course we had to pull over! (I need a bumper sticker that says, "I brake for covered bridges!") Truly Lovejoy would love this, I thought, as I got out of the car to explore. The heroine of my Pumpkin Falls mysteries lives in a fictional town in New Hampshire that boasts a covered bridge a bit like this one.
We walked through it, of course — you can't visit a covered bridge and NOT walk through it! And I got to thinking about bridges in general, and how they carry us from one spot to another. And that got me thinking about this website, which in a sense is a bridge from your world into mine. 
You may notice that my "bridge" looks a little different these days! This website has had a refresh, thanks to my talented friends at Winding Oak. We'll also be refreshing my official Facebook page while we're at it. What has been the "Mother-Daughter Book Club" page will soon be "Heather Vogel Frederick's Books." Stay tuned!