Hi there! Remember me? Oh my, what a whirlwind spring and summer I've had! I've been writing writing writing, mostly. I'm working on a new Pumpkin Falls mystery featuring the one and only Truly Lovejoy. Anyway, I spent the past week on a "staycation" from my day job, coffee-shop-hopping around Boston with my laptop in search of the perfect writing spot. I love writing in coffee shops! It's a nice change from working at home alone. Anyway, I thought I'd share my favorite spots for decaf mochas, my current motivator of choice.
The winner is …
BURDICK'S!  Oh my goodness. I knew their hot chocolate was a winner, but the mochas? Swoon. Unbelievably rich, with just the right balance of chocolate and coffee. I love the fact, too, that this outpost is just a few blocks from the Boston Public Library, which is one of my favorite writing haunts.
Coming in at second place is Tatte (rhymes with "latte"), which is like a little slice of Paris here in Beantown.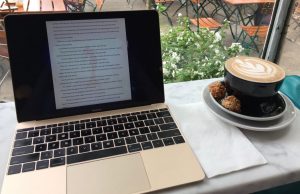 Seriously – I dare you to resist something this gorgeously creamy! And they have amazing baked goods which I try hard to resist but usually can't. Fortunately, they offer teeny tiny cookies at the checkout (so smart of them), so I can indulge in a wee treat without ending up not fitting into my pants.
(And yes, there is a mermaid on my laptop screen — I use Scrivener, which let's you customize the "Composition mode" backdrop. There's a mermaid element in my new book….)
In third place is Athan's.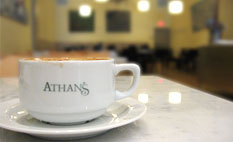 A European-style bakery with delectable hot chocolate and very good mochas. I like the casual buzz, too. You can often find me here.
Finally, a newly-opened neighborhood hangout: Cafe Landwer.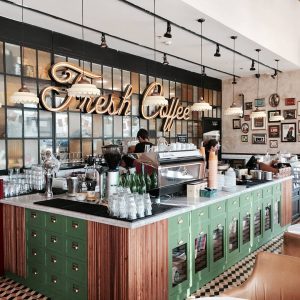 It's been around since 1919 (not in my neighborhood), and in fact my favorite drink on their menu right now is a tea called "Berlin 1919" — Berlin, Germany, is where the cafe has its roots. It's served with cinnamon and lemongrass and mint and a slice of orange and is HIGHLY ADDICTIVE! BUT there is something on the menu that is also calling my name and which I intend to try very soon: NUTELLA LATTE.
Are you kidding me?
Sign me up. I've been resisting (see: importance of fitting in pants, above), but I have a feeling I'm going to cave this weekend. I'll check back in and let you know how it was…
What are your favorite places to write? Or read, or daydream, or draw, or whatever it is you love to do?