In Which a Writer Goes Looking for Her Own Fictional Town
A few weeks ago, after spending the past six months cooped up in our apartment near Boston, my husband and I decided that we needed a little more horizon in our lives, a little more fresh air than what we manage to get walking our dog, and a little more change of scene beyond an occasional trip to the grocery store! Travel of any sort was (and still is) limited, though, and we couldn't venture far from home without having to quarantine either on arrival or on our return. Plus, airplanes, trains, buses, etc., didn't seem like the best idea right now. 
While mulling over the few remaining options open to us, I got a crazy idea.
What if we took an old-fashioned road trip through New Hampshire, searching for Pumpkin Falls?
Those of you who have read Absolutely Truly, Yours Truly, and now Really Truly, the most recent installment in my Pumpkin Falls mysteries, are well acquainted with this fictional town.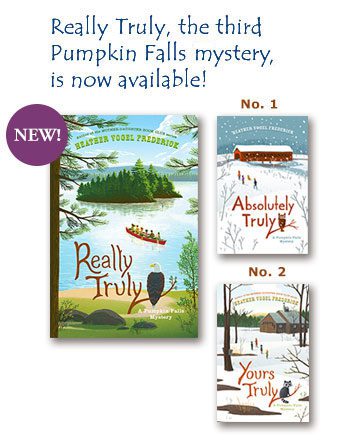 Pumpkin Falls boasts a covered bridge, a village green, an historic church whose steeple is graced by a bell crafted by Paul Revere, a quaint library, and a teeny downtown complete with an old-time general store. It's a figment of my imagination and sprang from a childhood spent happily living in small towns in New Hampshire and Massachusetts. 
But what if it wasn't a figment of my imagination? What if it really existed out there? Suddenly, I had to find out for sure.
Fortunately, after spending nearly 40 years under the same roof with a writer (moi!), my husband understands about these occasional obsessions that seemingly spring out of nowhere. And he definitely understands research. I told him that this jaunt legitimately qualified as research because — drumroll, please — I'm writing another Truly book! (I'm not ready to share much about it yet, as it's still in the noodling around stage, but it's going to be fun. Really truly fun!) I could just use a little more background material, I explained. A little more local color. 
Plus, what if there really WAS a Pumpkin Falls out there?
And so on a bright sunny morning in September, we set off to find out.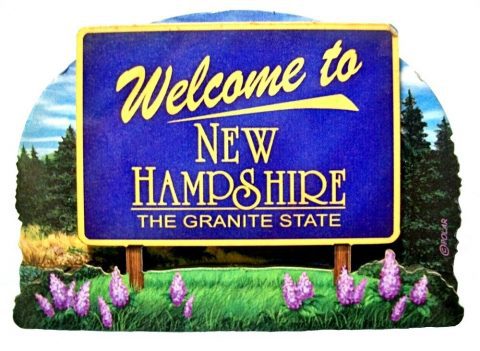 Our first destination was Pack Monadnock, a modest peak in the southern part of the state, to stretch our legs on a hike, take in the spectacular views (on a clear day you can see all the way to Boston, which we did!), and generally shake the city dust off our feet. Boy, did it feel great to be REALLY outside again!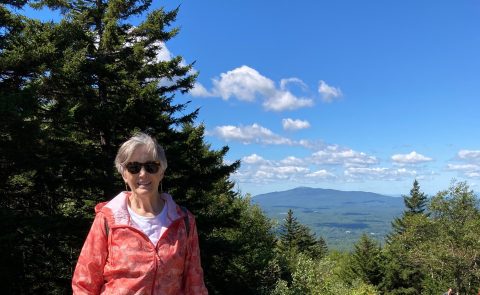 That's me on Pack Monadnock. In the distance you can see Mount Monadnock, the most-climbed mountain in all of New England, thanks to its proximity to Boston. (It's also said to be the third most-climbed peak in the world, next to Mount Fuji in Japan and Mount Tai in China.) I first climbed Mount Monadnock with my dad when I was seven. I still remember that hike fondly! My husband and I plan to tackle it soon, once the leaf-peeping crowds have subsided.
From there, we simply took whichever back road on the map looked appealing — aiming for as many small towns as we could find. Our first stop was in nearby Jaffrey, where we stumbled across an incredible village green with an incredible town hall dating to 1775!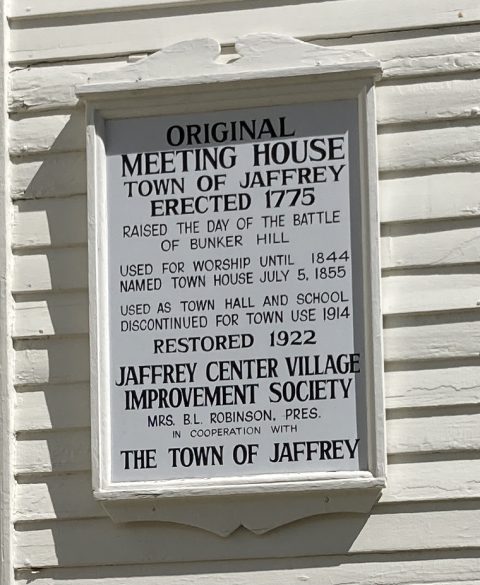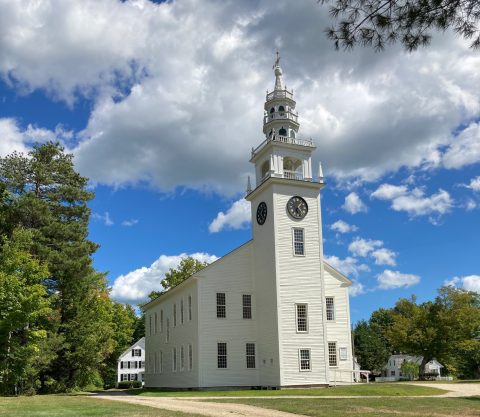 Isn't it gorgeous? The steeple is almost exactly like the one I'd pictured for Truly's church in Pumpkin Falls, where she has quite an adventure. . . .
Could this be it? I wondered. Had we found Pumpkin Falls so easily?
There was more, too, including this cool structure: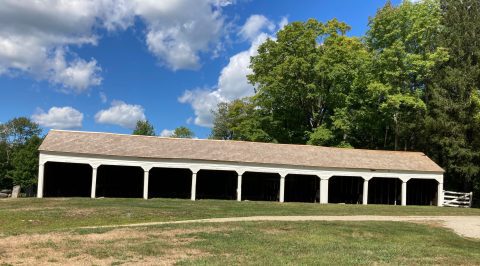 Those are stalls behind the meeting house, where people would have parked their horse-drawn carriages and wagons during church services and town meetings. You can't quite see it in this picture, unless you're able to zoom way in, but over each stall is a plaque with a family name on it: Worster, Spaulding, Gillmore, Spofford, Underwood, Brigham, Maynard, Peirce, and Stevens. And people wonder where writers get their ideas for names! They're everywhere, and they're ours for the taking — you'll have to wait and see if any of these  make it into the new book . . .
I'm definitely going to find a way to squeeze this in: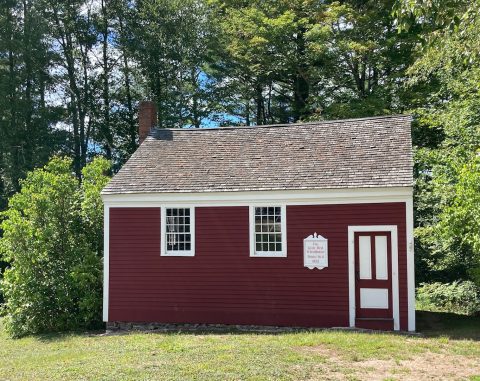 It's too irresistible. Such a cute little one-room schoolhouse! And check out the date: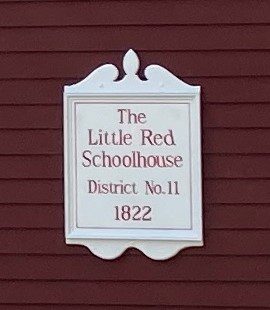 Back then, each town would have been divided into districts and each district would have had its own "district school" — what we call elementary school today. Children generally started at four years old, and the oldest students could be in their late teens or even early twenties! School sessions lasted about ten to twelve weeks and were only held a couple of times a year. In the summertime, the students were mostly girls, as the boys were needed to work on their family farms. The teachers in the summertime were women, too, for the same reason. The winter sessions were largely taught by men, and while some girls attended then, the classes generally included more male students. And they really crammed them into these little buildings — there might have been as many as 50-60 students lined up on the benches inside!
How do I know all this? Research! I was working on a project for my day job at Longyear Museum and now I am a fountain of knowledge on 19th-century schooling in New England. I'm guessing some of it will spill over into the new book. We'll see.
(If you want to know more about what a district school would have been like back in the 1800s, click here to see the one at Old Sturbridge Village — one of my favorite living history museums here in New England.)
In the end, Jaffrey had some of the elements I was looking for in my search for Pumpkin Falls, but not all. We would have to keep looking. But it was a delightful day and it ended with another delightful discovery — there's a Kimball Farm in Jaffrey!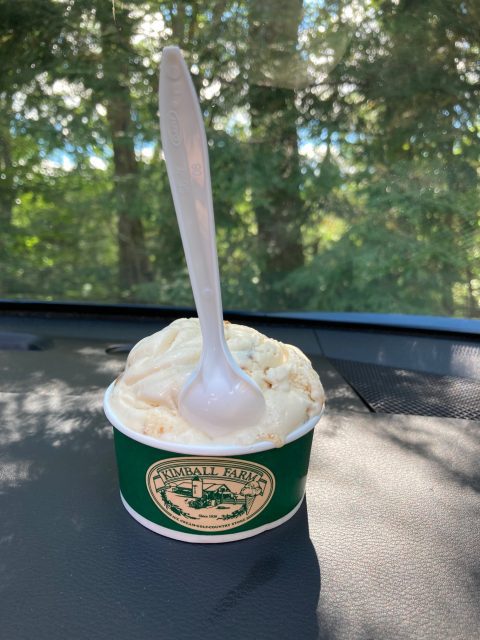 My Mother-Daughter Book Club fans will recognize this as the club's favorite ice cream spot in Concord, Massachusetts (mine, too). Well guess what? They have one in New Hampshire! Of course we had to stop.
The rest of our week continued in this serendipitous fashion. We went on amazing hikes . . .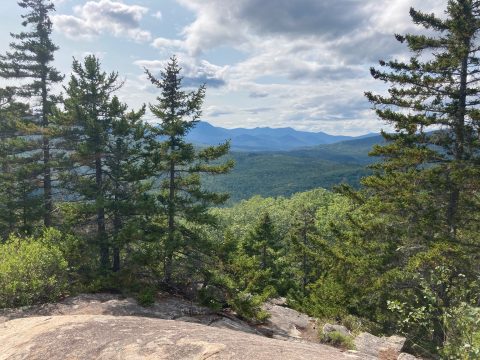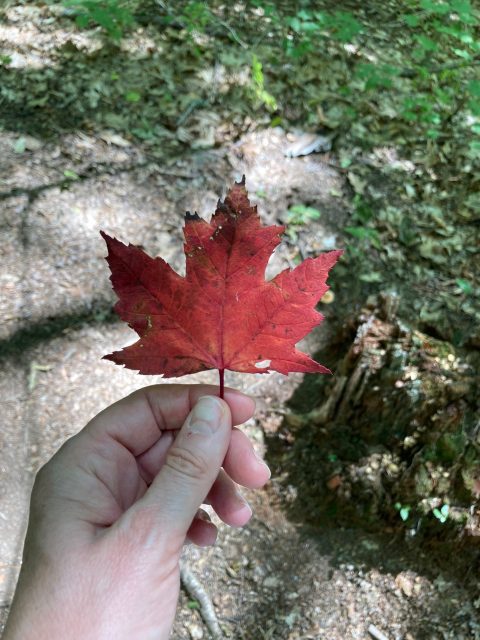 . . . stopped for picnics, picked apples, and checked out the Harrisville General Store . . .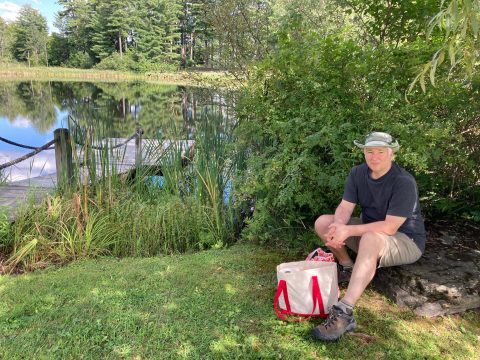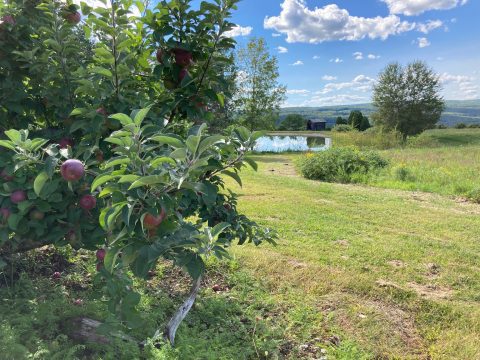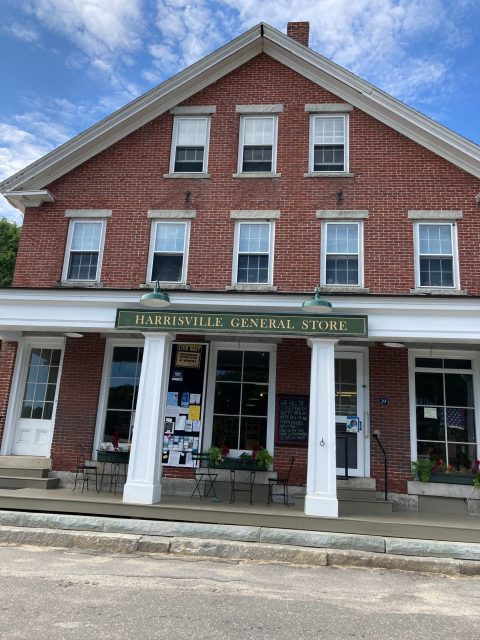 What a great little town! In fact, Harrisville has a lot of Pumpkin Falls in it, including a delightful library: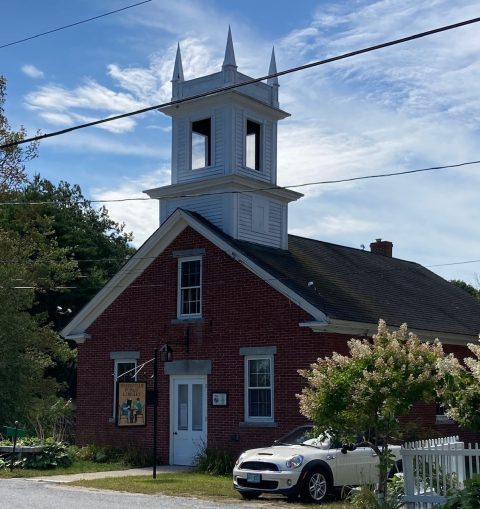 I loved this library in Jackson, New Hampshire, as well: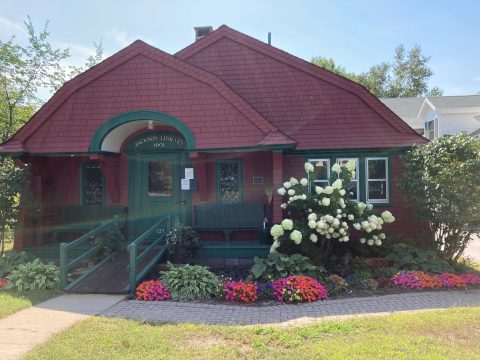 But I think this one in the little town of Washington is the closest to what I picture the library in Pumpkin Falls looking like: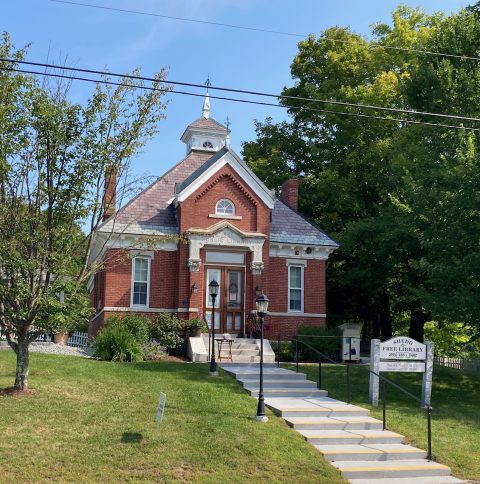 Heading north to the White Mountains, we made a brief pilgrimage to a beloved spot in the Mother-Daughter Book Club series (closed this time of year, but open in the winter for skating and sleigh rides!):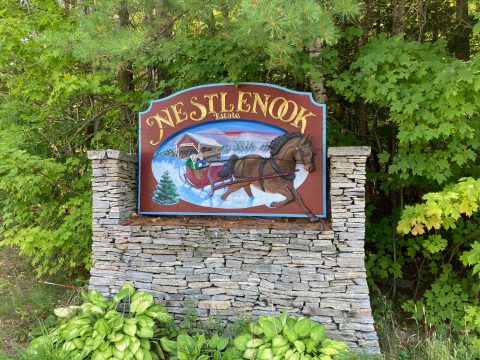 And we drove to the top of Mount Washington, the highest peak in New England, which was absolutely hair-raising, but worth it for the view: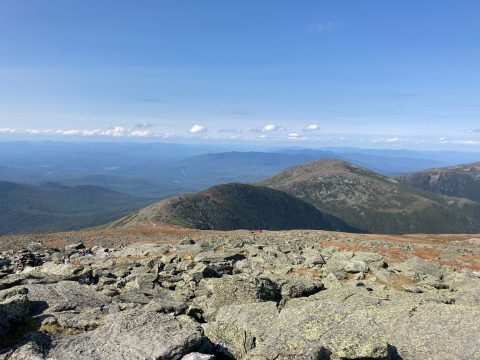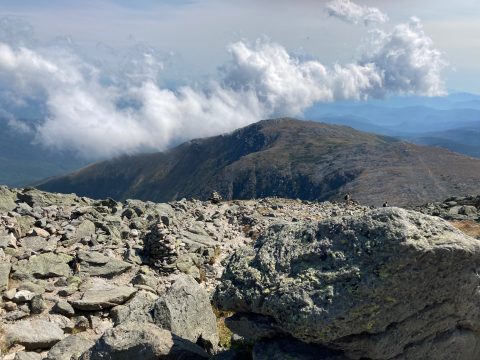 We were actually above the clouds!
We spotted several bandstands on village greens that would have looked right at home in Pumpkin Falls: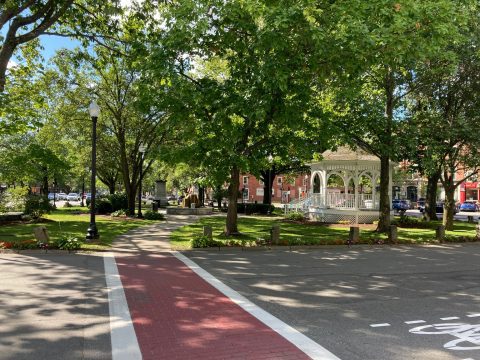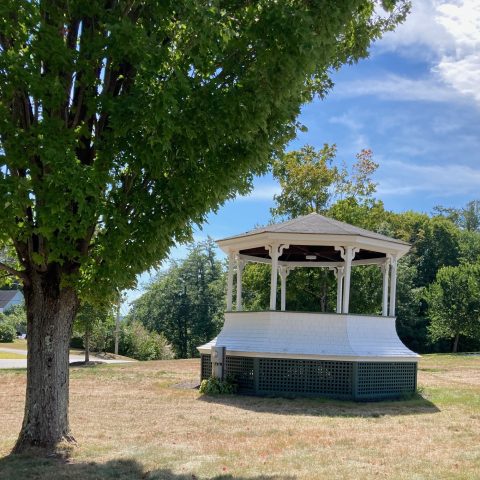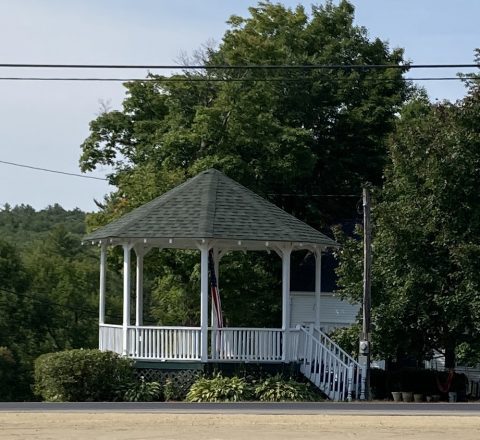 And covered bridges seemed to be around every corner, too: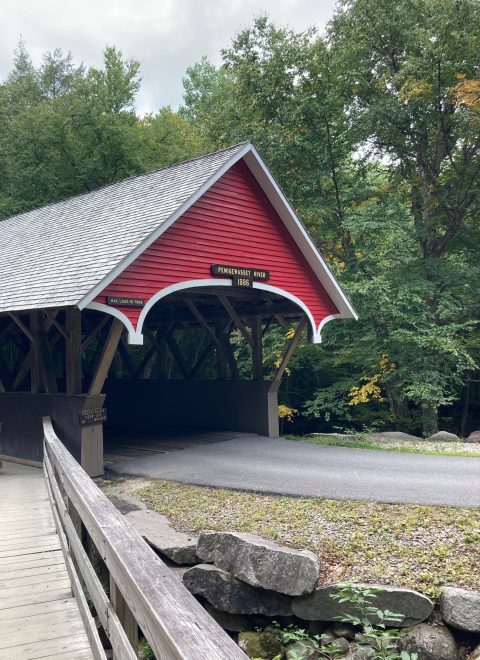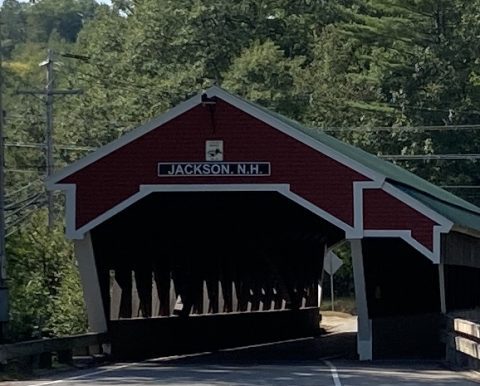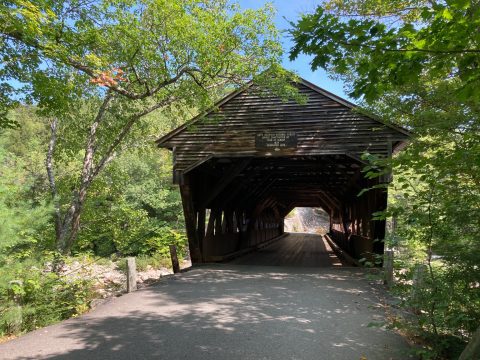 This one along the Kankamagus Highway, arguably New England's most beautiful drive, was stunning inside: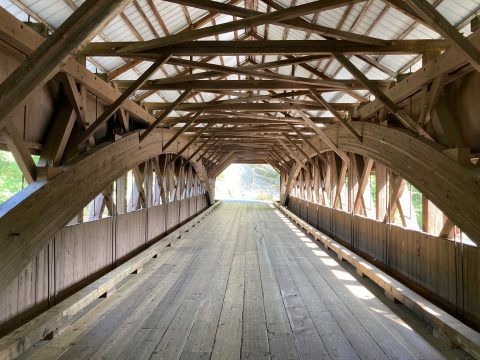 The structure is astounding, isn't it? And very Pumpkin Falls. Below it flows the Swift River . . .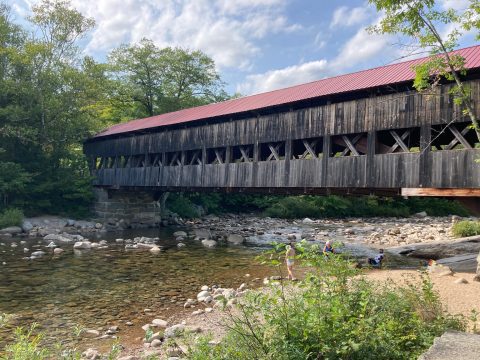 . . . where my husband and I flung ourselves in fully clothed after a very hot and sweaty hike (the directions said "moderate" — I'm sorry, but how is 1.5 miles STRAIGHT UP "moderate"? Again, though, worth it for the view.)
I'd forgotten how many steeples there are in New Hampshire! They seemed to be around every turn in the road. My husband was a good sport about pulling over so I could hop out and take pictures. Here are a few of my favorites: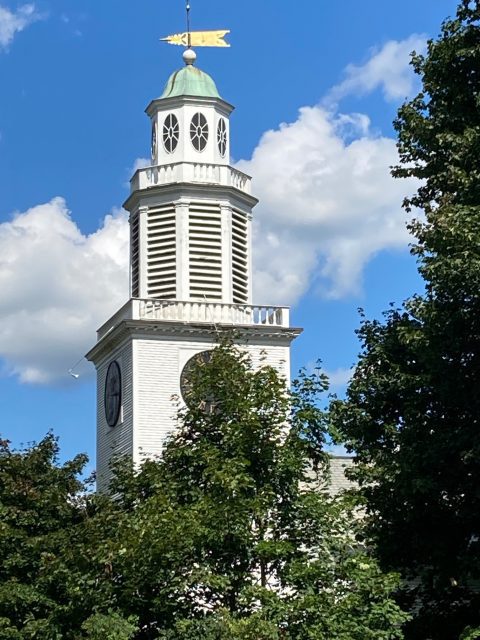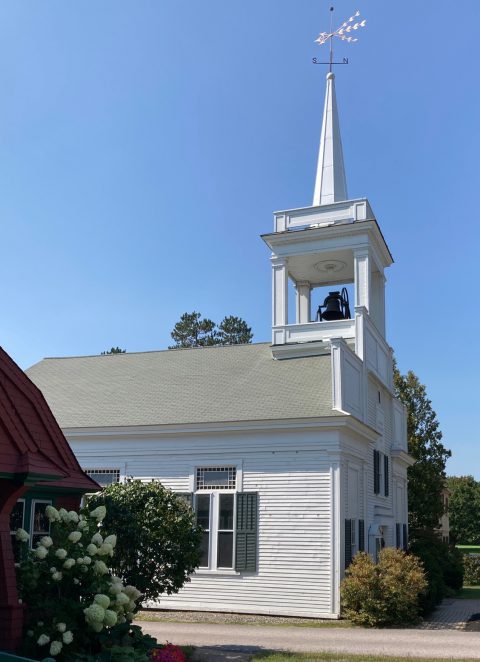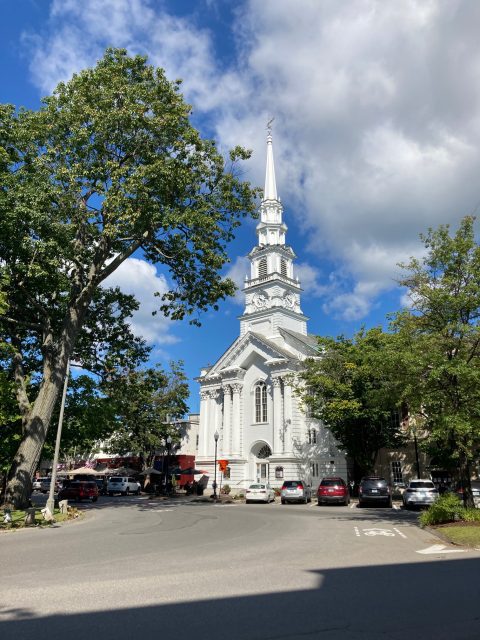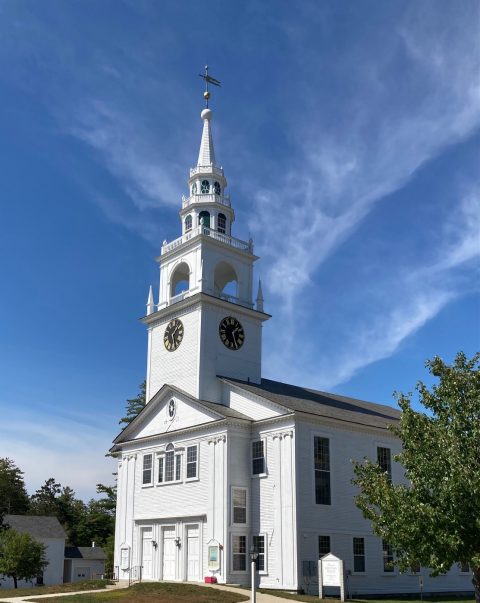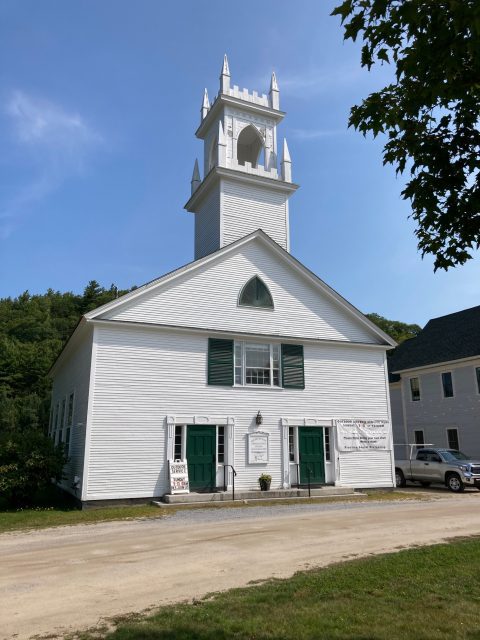 Aren't they amazing?
We ate outside everywhere we went, including here: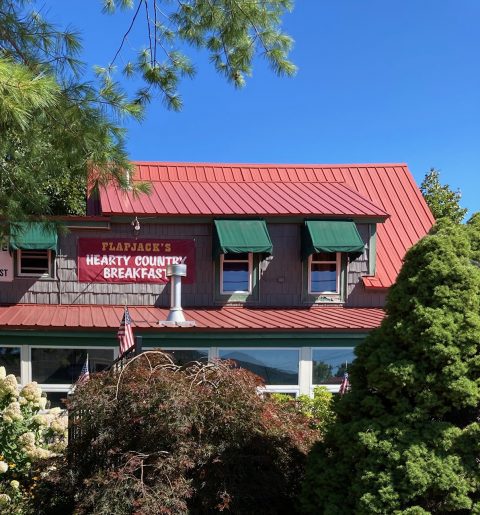 If you ever find yourself in Lincoln, New Hampshire, don't miss breakfast at Flapjack's! Absolutely truly hands down the best blueberry pancakes I've ever had in my life. Served with real maple syrup, of course. And speaking of maple syrup . . .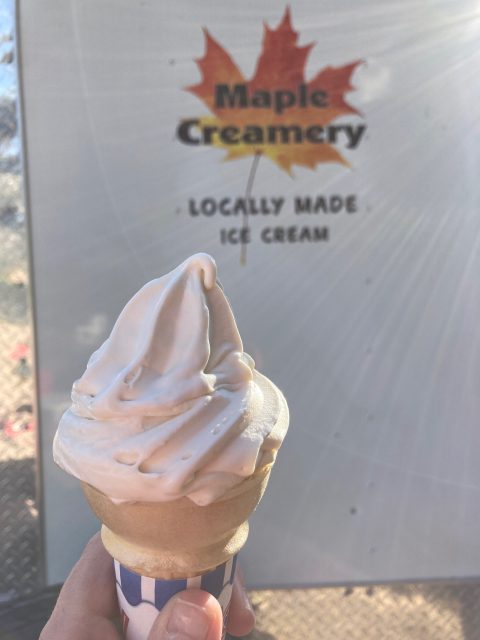 . . . I finally had a Maple Creamee! I'd begun to feel that this was the unicorn of ice cream cones — I'd heard of them for years, but never actually seen one. They're mostly a Vermont thing, but a few places in New Hampshire serve them, too, including this food truck we happened upon along a stretch of road near Plymouth, New Hampshire. I shrieked when I saw the sign and about scared the socks off my husband.
Friends, they're worth the hype. Made of real soft-serve ice cream (not the corn-syrup-and-chemical-laden slop often peddled at big chains) this treat is whipped up from local dairy products and real maple syrup. The result? Bliss.
I may have to drive back up there soon just to have another one.
So, was my search successful? Did I find Pumpkin Falls?
Yes and no.
There were elements of my fictional town everywhere I looked in New Hampshire, but so far I haven't found a town that has all of them. I guess I'll just have to keep looking!