It happens every single time I write a book.
Writer's magic.
Others call it serendipity, or "the universe" (whatever that's supposed to mean), or coincidence, or any number of things. But for me, it's always been — magic.
Here's the way it works. I sit down and start to write. I'm a pantster, which means I fly by the seat of my pants. No outline, no bulletin boards with pictures of characters cut out of magazines, no charts or lists or anything like that which my plotter friends use. Sometimes I have a vague general idea of where the story might go, but as often as not, it takes a surprise left turn and goes somewhere else entirely.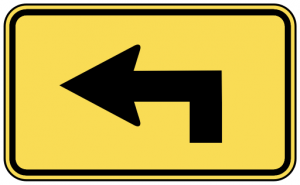 I just love this process of discovery as I go along! I love all the unexpected twists and turns. It keeps things interesting. Plus, inevitably, the magic happens, which is exactly what occurred recently with the draft I'm working on at the moment. (It's another Pumpkin Falls mystery, in case you're wondering.) And this time, I caught it in the act — well, almost — which rarely happens. It's hard to track exactly where ideas come from, but once in a while, eureka!
So I was writing along, minding my own business, and all of a sudden, this synchronized swimming element popped into the story, completely out of the blue (or so it seemed). My main character, Truly, is a swimmer, so the pool is always a part of her story, but whoa, where did this come from? And not just synchronized swimming in general, but specifically two nonagenarians (great word – a nonagenarian is someone in their 90s) named Zadie and Lenore who used to swim with Esther Williams in Hollywood!
Seriously — I kid you not, they just turned up on the page, all sassy and bursting with life. No way was I going to shut the door on the two of THEM. They were pure magic.
Writer's magic.
So into the story they've swum, and I am spending my evenings researching Esther Williams and watching her movies.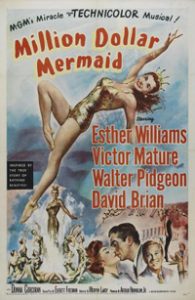 Now I haven't watched an Esther Williams movie since I was in middle school, and happened to stumble upon one when I was channel surfing on a Saturday afternoon with nothing else to do. THAT'S A LONG TIME AGO! What on earth had made me think of her, and those fabulous over-the-top Busby Berkeley choreographed water ballet sequences? Dozens of swimmers! Fountains and flames! Live music! And Esther herself, with her sequins and shimmer, her girl-next-door smile, her perfectly coiffed hair and perfect makeup, which no amount of water could ever dislodge!
I had no idea.
But I've learned not to question these magic moments when they occur, and I've been having enormous fun immersing myself (pardon the pun) in Esther's watery world, and finding ways to bring elements of it into my new book.
That's a scene from Million Dollar Mermaid. Isn't it fabulous? And isn't Esther amazing? She was a real athlete, a champion swimmer who would very likely have been an Olympian but World War II interfered, and she ended up in Hollywood instead. She makes those stunts look easy, but they aren't. Not at all.
Meanwhile, last weekend I went to see the new movie Crazy Rich Asians for the second time, because I liked it so much the first time I saw it, weeks ago right after it came out.
And suddenly there it was, onscreen, the source of this particular moment of writer's magic. Just a flash of a scene at the very end, of synchronized swimmers performing at an over-the-top celebration.
Aha, I thought. THAT'S where I got the idea!
Knowing where and when the seed was planted took some of the mystery out of it, but none of the magic. Because the magic wasn't done with me yet. It turns out that my young niece, without knowing any of what's been going on in my head, JUST JOINED A SYNCHRONIZED SWIMMING TEAM!
Which means I have a spy to help me with my research. Isn't that fun?!
So here's to writer's magic, left turns, and my new friend Esther Williams!