(book 1 of the Spy Mice series)
When Oz Levinson's dad gets a job at the Spy Museum in Washington, D.C., Oz is hoping for a fresh start. But no matter where he lives or what school he goes to, it seems like it's always the same. Sharks—bullies—versus everyone else. What would Oz's hero, James Bond, do? Make mincemeat out of the sharks, no doubt. Alas, Oz is no 007—more like double-o-lard instead.
Then Oz meets Morning Glory Goldenleaf, a mouse who's also a skateboarding superspy, and finds himself swept into an exciting world of espionage he never dreamed existed beneath the museum's floorboards and in the subway tunnels of the nation's capitol. A world every bit as exciting as a spy film. But Glory's struggle against the evil rat Roquefort Dupont is no make-believe movie. It's real life: mice vs. rats, kids vs. bullies, good vs. evil. And all the power lies in one paw.
2010 Nene Award (Hawaii State Book Award) Finalist
2008 Garden State Book Award Finalist
2007/2008 West Sussex Children's Book Award shortlist (UK)
2006 Waterstone's Children's Book Prize (UK) shortlist
2006 School Library Journal's Recommended Summer Reading (Middle School)
"Think Stuart Little meets 007." (The Christian Science Monitor)
" … James Bond meets The Borrowers—007 eat your heart out." (Junior Magazine UK)
"Your mission if you choose to accept it is to read this entertaining book … " (Colchester Evening Gazette UK)
"An adventure with a rattling pace that will keep readers hooked." (Times Educational Supplement—Scotland UK)
" … exciting and fun … Frederick comes up with a wonderful plot and all kinds of clever touches to this entertaining and suspenseful novel." (The Buffalo News)
"'Strap on your helmets, mouselings, we're in for a wild ride' … Lots of fun action, animal puns and real spy history keep the pages turning." (The Oregonian)
A "capricious caper … zany … this tale of tails will especially tickle aspiring sleuths." (Publishers Weekly)
"A lighthearted, clever combination of fast-moving adventure and talking-animal fantasy …" (Booklist)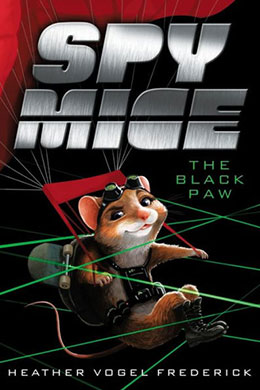 Heather Vogel Frederick
Simon & Schuster, 2013