(book 3 of 7 in the Mother-Daughter Book Club series)
Could the book club break up? When Jess is offered an anonymous scholarship to a prestigious boarding school, she's not sure that leaving home—and her friends—is what she wants to do. Meanwhile Megan's grandmother comes for a long visit and turns everything in the Wong household upside down; Emma crusades against her middle school's new uniforms; and Cassidy finds out there's a big change ahead for her family.
Inspired by Jess's unexpected opportunity, the book club decides to read Jean Webster's classic Daddy-Long-legs, and there's an added twist this year when they become pen pals with the girls in a book club in Wyoming. There's plenty to write to their new friends about, from a prank-filled slumber party to a not-so-secret puppy—and even a surprise first kiss.
In this third book in the beloved Mother-Daughter Book Club series, the girls learn that as long as they have one another—and a good book—they're ready for whatever eighth grade has in store!
2009 Cybils Award Nominee
"Fans of the series should enjoy this latest offering, and will be looking forward to the characters' upcoming move to high school." (School Library Journal)
"The latest installment in the series will not disappoint fans of the first two books.  The girls are growing in real time, and their 8th grade problems are different from their 6th grade ones…. The changes simply feel true to the tumultuous times of middle schoolers.  I can't wait to see what the book club reads next!" (Welcome to My Tweendom)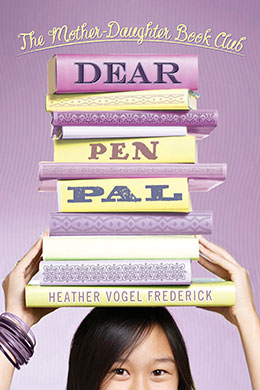 Heather Vogel Frederick
Simon & Schuster, 2009