(book 4 of 7 in the Mother-Daughter Book Club series)
Right before the start of their freshman year, the mother-daughter book club faces yet another challenge when Emma's family unexpectedly moves to England. Leave it to the resourceful girls, however, to find a way to continue meeting and discuss a particularly fitting choice, Jane Austen's Pride and Prejudice.
In England, Emma encounters a new queen bee, Annabelle, who sets out to make her life miserable. Back in Massachusetts, meanwhile, Annabelle's cousins swap homes with Emma's family and are causing some major distractions. Cassidy clashes with moody Tristan, a modern day Mr. Darcy, while her friends swoon over Tristan's younger brother Simon. As the year progresses, the girls each discover new talents, and when they cook up a plan to bring Emma home for a visit by holding a bake sale, it grows into a thriving business, Pies & Prejudice. After their sweet scheme looks like it's going to fall short, though, they're left wondering if the club will ever all be together again.
Oregon Book Award Finalist 2012
"Fans of the series will not be disappointed with this installment. With four effervescent heroines, several budding romances, an ambitious cooking venture, and a hefty pinch of drama, Pies has instant teen appeal, even more so if readers are Anglophiles. When Emma's family announces they are moving to England for a year, the book club selects Pride & Prejudice in honor of their adventure and keeps up regular meetings via webcam. Austen fans will appreciate the character nods: Emma deflects the advances of a Mr. Collins-like oaf, Megan falls for the amiable Simon Berkeley (aka Mr. Bingley), and Cassidy spends much energy detesting Tristan Berkeley, the obvious but nonetheless enjoyable Mr. Darcy character. For teens who may not recognize these parallels, the author makes them clear with quotes at the head of each chapter, as well as pointed comparisons made by the characters themselves. With interesting facts about Austen interspersed throughout, and a visit to relevant sites in England incorporated, this book makes an excellent introduction to one of the most masterful—and popular—writers of all time. Don't be surprised if 12-year-olds start checking out Pride & Prejudice after reading this teen-tailored adaptation." (School Library Journal)
"The girls are back, and this time they are tackling some Austen as well as a cultural exchange of sorts! … Frederick has written another installment that is fun-filled yet more grown up than the previous titles. She has managed to keep the girls innocent yet believable, and bringing the Hawthornes to England was a great way to introduce new characters and switch the focus a bit. Romances abound and will keep readers titillated without resorting to choosing 'teams.' I don't want to give too many plot points away, but suffice it to say that the laughter that came with the reading was familiar, while the tears were not. Fans will be delighted, and new readers will be able to jump right in." (Welcome to My Tweendom)
"Another great installment in a great set of books. I feel as if I have seen these characters grow from young tweens to somewhat mature teenagers, and I just love following the ups and downs of their lives … I can't speak highly enough about how wonderful these books are for middle-grade girls, and especially mother-daughter book clubs." (Booking Mama)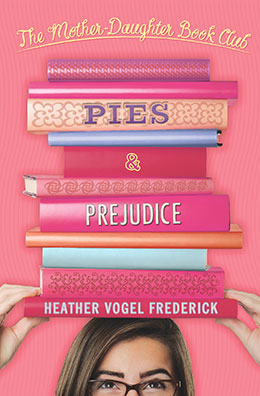 Heather Vogel Frederick
Simon & Schuster, 2010