(book 3 of the Pumpkin Falls Mystery series)
Truly Lovejoy is excited for the perfect summer in Pumpkin Falls, New Hampshire: swim practice outside, working at the bookstore, one-on-one time with her mom, and best of all, time with the dreamy RJ Calhoun who may just like Truly back. But the idyllic falls apart when she's sent off to mermaid academy—sparkly tail and all.
Luckily, a mystery is never too far behind the Pumpkin Falls Private Eyes, and synchronized swimming turns into a hunt for a buried treasure and an investigation of the founding of Pumpkin Falls…which may or may not have involved a pirate or two.
And as the Pumpkin Falls Private Eyes get closer to the heart of the mystery and Truly gets closer to her mermaid debut, she may just learn to come out of her shell.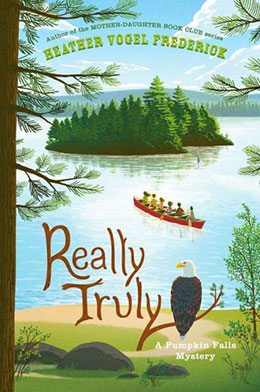 Heather Vogel Frederick
Simon & Schuster, 2020