(book 2 of the Spy Mice series)
In a thrilling return engagement, the Spy Mice Agency faces its biggest challenge yet: rats who can READ!
And if they don't think fast, secret agent Morning Glory Goldenleaf will be mousemeat pie just in time for Thanksgiving.
This fast-paced "tail" whisks readers from Washington, D. C. to the Big Apple, from the International Spy Museum to Times Square, as once again, mice and humans team up to aid each other in the battle against evil … of both the two-legged and four-legged variety.
2006 Oregon Book Award Finalist
2006 School Library Journal Recommended Summer Reading (Middle School)
2005 New York Public Library's Children's Books: 100 Titles for Reading and Sharing
"Think Stuart Little meets 007." (The Christian Science Monitor)
"A spectacular follow-up to The Black Paw … delicious …a delight …" (Kirkus Reviews)
"A ripping yarn that rattles along at a cracking pace, this is funny and sharp and allows no paws for thought." (Big Issue in Scotland UK)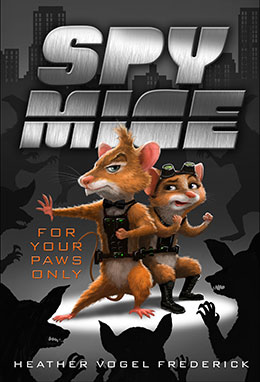 Heather Vogel Frederick
Simon & Schuster, 2013